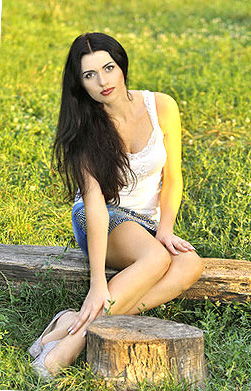 Requesting a girl's personal contact info.
There're two ways to obtain a girl's personal contact info. The first one is to exchange at least 15 messages with her. That means fifteen two-way exchanges, so you have to open at least fifteen fee-paying messages from this particular lady (a girl's letters are free until you write for the first time, and we don't count free messages). This way is preferable because fifteen letters is just enough to get to know the girl and see if she is really interested in you. And you'll need to go through IMBRA clearance (only if you're a US citizen, and regardless of how many girl's contact details you want). After that you get her full contact info (processing your request for a girl's contact info can take up to 48 hours). Through IMBRA clearance you show that you comply with the laws and that there's substantial communication to show girls intent, and make sure she signs the IMBRA.

If you do not want to wait until opening fifteen letters, you can use our expedited service (paying an administrative fee of 50$ - for each girl's info). This fee isn't to be confused with the IMBRA fee, it is 40$ and is a separate matter. The 50$ administrative fee will cover all our expenses: we'll contact the lady you have chosen, we'll try to obtain her permission/IMBRA. If she doesn't give us permission, we cannot give you her contact info, and the administrative fee is non-refundable. Our expedited services works quickly, but we wouldn't recommend it. Fifteen letters really let you know the lady better. No letters don't give you the full picture - you'll not be sure of girls intentions and whether she wants to speak with you directly outside of our service. You cannot apply for our expedited service if you have not opened at least 1 paid letter from the lady whose contact info you wish to obtain.

Bringing a lady over to your country.
Let's review the process of bringing the lady of your choice to the US (Australia, Canada and European countries have similar laws).
The best way to bring her is the "fiancee" visa. It allows her to stay for 90 days in your country. If you get married within these ninety days, she can apply for the "green card".

You have to meet the lady in person before you can apply for fiancee visa. She cannot obtain a visa to come to the United States on her own. So in 99% the most practical way is the meeting in her country. So you can save a lot of money, time and energy by meeting several ladies on one trip. However, some men prefer to meet the lady in a third country, to which she can fly without a visa. Such countries are Dominican Republic and Turkey. The problem with a meeting in a third country is that she'll most likely expect you to pay for the trip, and this raises many problems (can you trust her? can she trust you? etc). Another problem is that you'd be investing so much energy, time and money in only one lady, whom you have not met in person. Consult us if you're thinking about a meeting in a third country.

IMBRA form.
You can send the filled-out form by fax, by email, or by mail. The processing fee is 50$.
Upon receiving the payment and the form, we'll run the data through databases. It takes up to three business days.

In most cases your next step is a trip to Russia or Ukraine with a schedule to meet several ladies. To prepare for such step you need:

1. Have at least three-four women you're communicating to on a regular basis. We have seen men travelling to Russia for just 1 lady and marrying her, but this isn't common.
2. Make sure the ladies you're talking to are real. Unfortunately, there're a lot of clever scammers out there. Our website is monitored to protect our users from scam, but we cannot guarantee that we're 100 percent free of them.
3. Make sure you know the girl well. Avoid surprises, maybe she have children, when you thought she didn't, her level of English, and so on. That is what our website's communication system is for, and that is what our fifteen messages minimum is for.
4. Make sure the girl looks the way you imagine her. It is not uncommon for people to place two-three year old photos of themselves on our website, because they "look better" on them. Ask the girl for her recent photos. Our website offers a private area where users can share additional pics, not viewable by other members.
5. Make sure she really wants to meet you. We want to prevent men from taking a trip across the world before they're sure she's going to show up. Our 15 messages minimum helps. The IMBRA allows you to ensure that she is interested in you and is familiar with your background.