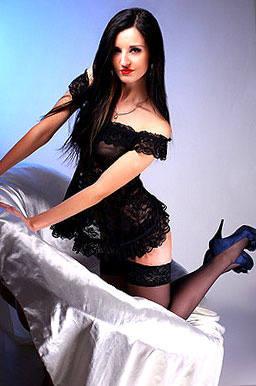 Traditional family owned, operated Ukraine ladies dating agency from Kherson Ukraine, Interbrides agency was established in 1993. This is traditional family owned, operated Ukraine ladies, Russian ladies dating agency, personalized Match Making service situated in Kherson/Ukraine. Almost all our own female users are single, beautiful Ukraine brides from Kherson (Cherson), woman may become user after she in person comes to our own marriage agency's office in Kherson (you may see our own office's entrance in the pic below). We meet, interviewing each Ukraine lady who wishes to join our own agency. We do not have 1000's of user profiles of Ukraine ladies, because we're much more interested in real quality, actually real ladies, each lady who's in the album of the women is currently interested in searching the right gentleman.

Since 1993 we've been investing in our advertising campaign in Kherson which attracts pretty young, beautiful Ukraine ladies who're interested in serious close relationship, are open to suggestion of moving abroad. We don't buy user profiles of the women, we don't share them with another agencies. As we never sell addresses, our own women aren't burdened with 100's of messages from "bulk mailings". Almost all the services that we give to the women are absolutely free of charge for them; Actually real Ladies — we're regional agency, almost all the ladies in the "Inter brides" agency are from Kherson, we don't have any on-line forms which girl may fill out to become user, after special interviewing at our own office in Kherson woman may become user of the company. We in person meet, communicate to each girl who wishes to join the company; Up-to-date high real quality fotos, live videos — we own foto studio, so may guaranty that the images in our own album are of tallest real quality. We wish our own male users to have possibility to see fresh, up to date images of the women, we never alter the women's looks, post high definition images which are very detailed, well lit.

We post HD real quality full size live videos of the women in their user profiles; Ladies are looking to settle down — we interviewing the women we make sure that they're interested in serious close relationship, are open to suggestion of moving abroad must they meet the right gentleman; available ladies — we make sure that interested ladies remain in the album. We remove user profiles, images of the women quickly as they become unavailable; New women join constantly — check up out the "New Women" area of our own site to see the images, live videos of the Ukraine ladies who've simply joined the company.

The Agency.
"Inter brides" is our own name, we care all about our own repute; Longevity of the working business — "Inter brides" agency began practicing back in 1993, since then's proved its ability to help single people meet their soulmates; Live video, Audio, written Testimonials — learn all about the experiences our own users had looking for the soulmates in southern Ukraine; We respond to emails within maximum 24 hours — we esteem our own possible, existent users, we're wishing to give you prompt answers to any personal questions you could have. If you send us message, don't hear back from us this means that we've NOT received your personal message. To resolve the trouble, please, click here you may permanently reach us at 1 of the telephone numbers afforded in the Contact Us area of our own web site; "Inter brides" is legit agency — we're officially registered entity, "Inter brides" representatives've been asked to participate in numerous television demonstrates, personal interviews; AntiScam Policy "Inter brides" agency has 0 tolerance towards any kinds of defrauders. Special attention to each member — as you well know we are not big agency, each member we've is treated with maximum attention, care. We believe, this attention accompanied by experience we have gained since 1999 are most major circumstances which allow us to help our own users to carry the positive changes into their lives.

The services.
Absolutely free presentation messages — become verified member, send your personal presentation message to any number of women, receive the replies of these women who're interested in you absolutely free of charge; True messages — almost all the messages are written by the women. If the girl is interested she'll be chatting with gentleman; Affordable communication services — we proffer our own users wide range of communication services containing "Unlimited communication service" which really allows you to send, receive any number of messages from any number of the women during set duration of enough time; Skype Live video conferences with the women allow you to see, communicate to girl you're interested in. We use HD (high definition) web space camera for the Skype calls; Special meetings in Kherson We proffer our own users "Presentation Service" packages which contain pick up at the central airport or/and train station, accommodation in 1 of the "Inter brides" owned flats, interpreter's service, most importantly meeting almost all the women gentleman is interested in. There're no limitations on how many women gentleman may meet. Initial meetings are usually really short, hour, half on ordinary, this course gentleman may meet almost all the women who he's interested in during first pair of days, then concentrate on the girl (women) who he'd number one mutual chemistry with. We arrange personal meetings, this means that there's gentleman, lady at the meeting, translator if necessary, this's good arrangement for the pair to actually have great communication, see if they wish to continue getting know each other. Fiancee K1 visa assistance we'll help your personal girl to get almost all the necessary documents prepared and fill out the forms, get prepared for the interviewing in the embassy; No unseen costs — almost all the services we proffer have fixed fees. This means that there're no unseen costs. With "Inter brides" you well know exactly, in advance what'll be cost of each service you could require.